Parallel twin screw plastic extruder, patent for plastics blending, surname, filling, enhancement, etc.
Co-rotating twin screw extruder has best dispersing and compounding for all the materials. Modular design can make the machine changed according to the materials and the process technology easily. It is possible for one machine reach the extensive performance and special purpose in many place.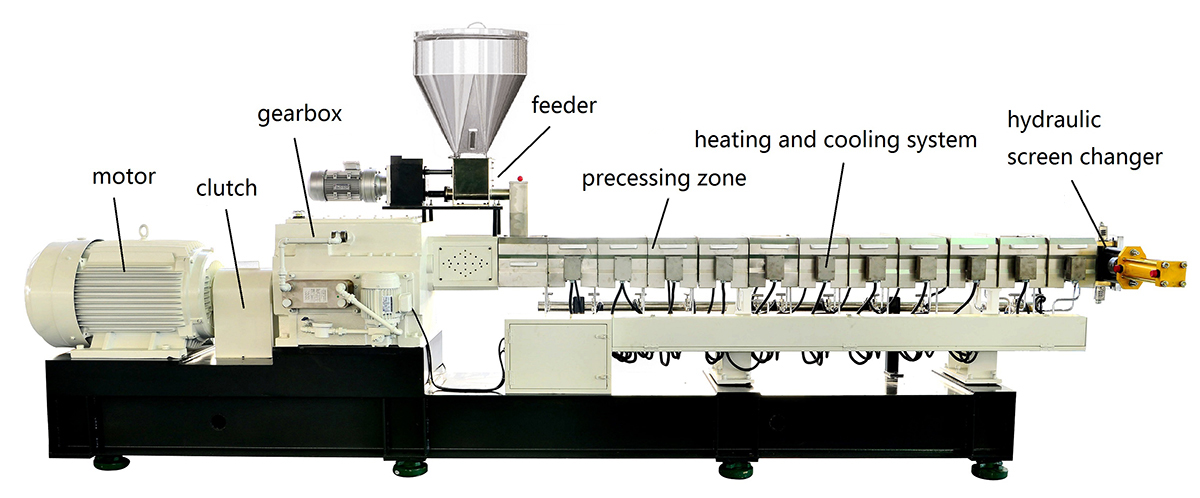 Advantages
Tse series included screw diameter from ∮20mm -∮133mm. Different processing demand can be satisfied by our different screw speed and different torque output.
Special design for the frame with special pats makes the machine installation easily and smoothly when running.
Hydraulic screen changer, non-stop screen changer, hinge die are available.
Various feeding system normally are volumetric feeder, gravimetric feeder can be used for more precise.
Power Transmission System
Newly strengthen design, Speed reducing and torque disturbing integrated.
TSE-H series High torque gearbox from Italy / German used for the machine can improve the capacity of the machine and the safety torque make the machine long life.
Different Pelletizing Way
1.Underwater pelletizing line
2.Water strand pelletizing line
3.Water-ring hot-face pelletizing line
4.Air-cooling hot-face pelletizing line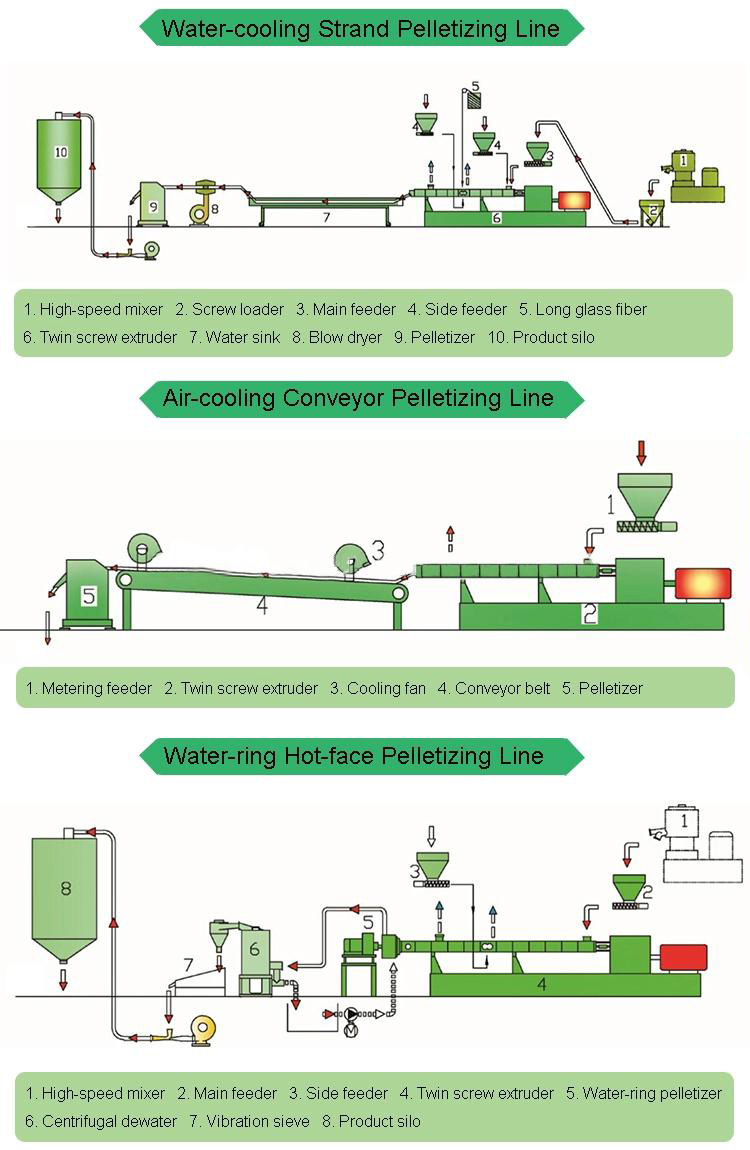 Parameter table
| | | | | | |
| --- | --- | --- | --- | --- | --- |
| Model | Diameter(mm) | L/D | Speed(rpm) | Power(kw) | Capacity(kg/h) |
| TSE-20 | 21.7 | 28-60 | 600 | 4 | 5-10 |
| TSE-35 | 35.6 | 28-60 | 600 | 18.5 | 20-55 |
| TSE-35H | 35.6 | 28-60 | 600 | 30 | 60-90 |
| TSE-50 | 50.5 | 28-60 | 600 | 45 | 80-100 |
| TSE-50H | 50.5 | 28-60 | 600 | 55-75 | 100-150 |
| TSE-52 | 51.4 | 28-60 | 400/500/600 | 55 | 120-200 |
| TSE-52H | 51.4 | 28-60 | 600 | 75-90 | 180-250 |
| TSE-65 | 62.4 | 28-60 | 400/500/600 | 75-90 | 200-350 |
| TSE-65H | 62.4 | 28-60 | 600/800/900 | 110-185 | 500-800 |
| TSE-75 | 71 | 28-60 | 400/500/600 | 110-185 | 300-700 |
| TSE-75H | 71 | 28-60 | 600/800/900 | 160-315 | 600-1200 |
| TSE-95 | 93 | 28-60 | 400/500/600 | 250-400 | 500-1200 |
| TSE-95H | 93 | 28-60 | 600/800/900 | 400-800 | 1500-2500 |
| TSE-135 | 132 | 28-48 | 600 | 550 | 1500-2500 |
| TSE-135H | 132 | 28-48 | 600 | 630-1000 | 2000-3000 |